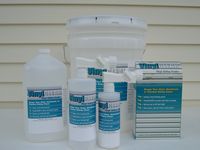 1. Carefully read the following instructions before use. Do not mix with any other chemicals.
2. Wear eye protection.
3. Clean the area to be sprayed. Make sure there are no residual chemicals on the area.
4. For best results, surface should be dry.
5. Shake before using. Attach sprayer with dip tube to bottle. Attach garden hose to back of sprayer.
6. To apply, spray the VinylClear mixture forcefully on the siding with the sprayer in "ON" position. Work from the bottom up until the entire surface is thoroughly wetted. If any spots are missed, you may reapply at any time. When the first bottle is emptied use the same sprayer head for the second bottle.
How much will I need?
One Vinyl Clear kit will cover an average size home of approximately 2,500-sq. ft.
Helpful Tip: Use a garden hose at full force to completely cover the surface. Make sure the threaded end of your water hose is in good condition, as it is impossible to establish a tight seal with a damaged hose.

Keep tightly capped and store upright in above freezing temperatures.


Troubleshooting:
If your sprayer stops applying VinylCLEAR. To unclog sprayer head, shake bottle, if that does not work, move switch back and forth a few times on sprayer head. Remove tube inside sprayer and check for clogs, if that does not work, flush bottom of sprayer head with water.
1 Package contains 2 – 16 oz. Bottles of VinylCLEAR Formula and 1 Spray Head.